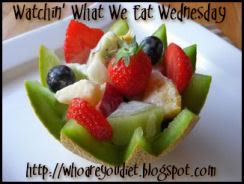 So I'm new at this bloggin' stuff and a day late, but that's okay right? The theme this week is cookies, but since I don't have a favorite cookie recipe I'm going to post a dessert recipe.
Fluff
1 container Fat Free Cool Whip
1 dry pkg sugar free Jello (I use cheesecake or white chocolate flavors)
1 can mandarin oranges
1 small can crushed pineapple
1 container Fat Free vanilla yogurt
Mix all ingredients together until well-blended. Refrigerate immediately. Serving size equals 1 cup. (1 cup = 2 Weight Watcher points)
This is a great recipe for breakfast or dessert. The variations are endless - be creative with the pudding and the fruit.